Announcements
Commissioners Establish Pipeline Safety Advisory Board (updated)
On December 12, 2019, the Chester County Board of Commissioners unanimously approved a motion to appoint the members of the Pipeline Safety Advisory Board. See the listing of Board members on page four of the Commissioners' meeting minutes.
The purpose of this Board is to bring together emergency response experts, municipal officials, industry representative, and members of the public who live along a pipeline right-of-way to review, discuss, and make recommendations to the Commissioners and county departments on how to ensure citizen safety when it comes to pipelines.
FERC Issues Certificate of Public Convenience and Necessity for Adelphia Gateway
In an Order, dated December 20, 2019, FERC has issued a Certificate of Public Convenience and Necessity authorizing Adelphia Gateway, LLC to acquire, construct, and operate a new interstate pipeline system. View the Order.
Chester County Commissioners provide input on House Bill 1735: Pipeline Early Detection and Warning Board
On September 17, 2019, the Chester County Commissioners provided feedback on legislation proposed by Rep Danielle Friel-Otten for the creation of a Pipeline Early Detection and Warning Board for Pennsylvania under the Department of Community and Economic Development.
Chester County files comments with the PUC regarding the Advanced Notice of Proposed Rulemaking regarding Hazardous Liquid Public Utility Safety Standards
On September 11, 2019 the County of Chester filed comments with the PA PUC as part of the Advanced Notice of Proposed Rulemaking (ANOPR) for Hazardous Liquids Public Utility Safety Standards. The purpose of the comments is to provide input into the amendment and enhancement of Chapter 59, which relates to the PA PUC and the regulation of public utilities which transport petroleum products and other hazardous liquids.
Website Overview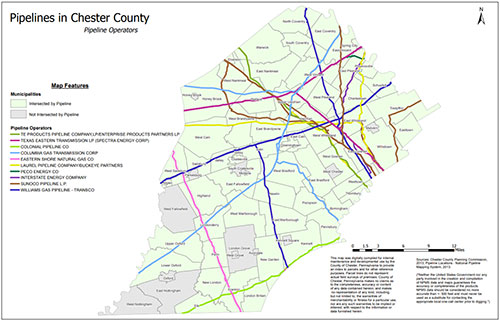 Nearly 600 linear miles of pipeline corridors cross Chester County's landscape. Many of these pipelines have been in place for decades but, more recently, the construction of new lines and upgrades to existing ones have increased in the county. Much of the pipeline activity is a result of the expansion of gas extraction in the Marcellus and Utica Shale regions. The increased extraction has, in turn, created a greater demand for pipeline capacity to transport the resulting products.
The Pipeline Information Center (PIC) was created to provide current information on pipelines and pipeline activity in Chester County. The Chester County Planning Commission maintains the Pipeline Information Center website and serves as the County's Point of Contact for interaction and information exchange with residents, landowners, operators, non-profits, and regulatory agencies. The website serves as a central location for information and updates on proposed and active pipeline projects. The Pipeline Information Center also supports pipeline safety and public awareness through a partnership with pipeline providers, regulators, and municipal governments.
The PIC is designed to address stakeholders' primary concerns and includes sections such as an interactive map that allows users to search for their location relative to nearby pipelines as well as other mapping information; pipelines in the news which includes articles about local pipeline projects; and active pipeline projects which provides information on current pipeline projects proposed in Chester County.
A full site index is available and provides a quick overview of the site's extensive contents.