Structures built using "green" construction standards can appear no different than convention structures.
How it Works
Imagine living in a neighborhood with a "net zero" energy balance from public utilities, where all residents can walk outside in safety without concerns about vehicle traffic, where natural landscaping enhances open spaces, and where pollution is almost non-existent. Municipalities can promote green developments by encouraging innovative designs and techniques in construction, subdivision and land development ordinances.

Photovoltaic panels can provide electricity for "green" structures.
Benefits
Energy Conservation
The use of green construction and development techniques can reduce the long-term use of energy.
Financial Benefits
Houses (as well as non-residential structures) using green designs can require less energy to heat and cool, allowing financial resources to be directed towards other areas.
Encourages Market Acceptance
Developments using green technology can stimulate similar developments and can help increase their market acceptance.
Pollution Reduction
Green construction and land developments can reduce air pollution and improve indoor air quality.
Environmental Protection
Green developments can help protect sensitive environmental areas through their preservation, and by removing pollutants.
Safety
Green developments stress the safety of their residents, including roadway and environmental safety.
Get Started
Municipalities can encourage the use of green construction techniques and land developments through their zoning ordinances and their subdivision and land development ordinances. Ideally, the municipal comprehensive plan should include policies that support the implementation of green codes and ordinances. These ordinances should include provisions that encourage: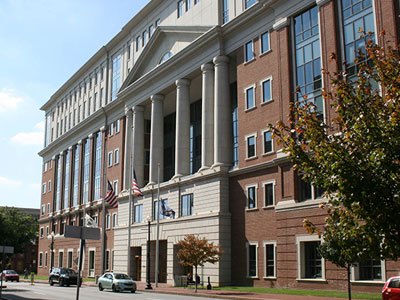 LEED for Neighborhood Development
LEED (Leadership in Energy and environmental Design) is a voluntary program that provides independent verification of green buildings and developments, and is administered by the U.S. Green Building Council. LEED for Neighborhood Development integrates the principles of smart growth, urbanism, green building and neighborhood design. The Pennsylvania Uniform Construction Code does not require LEED certification, but municipalities can still encourage its use or its equivalent.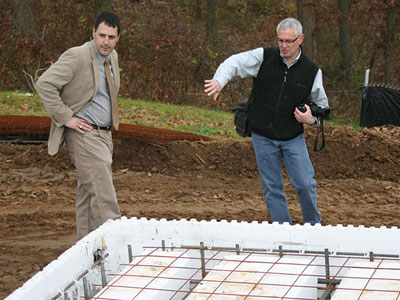 Enhanced Insulation and Energy-Efficiency
Municipalities cannot supersede the standards in the Pennsylvania Uniform Construction Code, but they can encourage the use of building materials that exceed the minimum requirements by offering incentives such as additional development density.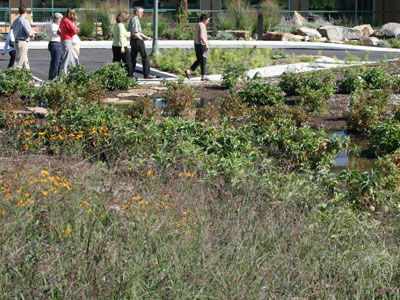 "Permaculture" Landscaping
Native plants should be used in landscaping, which should be designed to be self-sustaining with little or no supplemental water, pesticide and herbicide applications or extensive weeding. Landscaping can also include community gardens and the use of edible plants.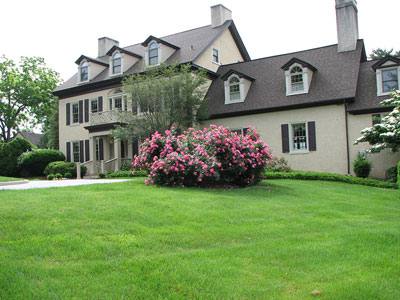 Adaptive Reuse
Existing dwellings and structures in a proposed land development should be retained and reused; incentives can encourage their preservation by excluding these dwellings from counting towards the site's potential allowable density.
Rainwater Harvesting
Ordinances can encourage the use of recycled rainwater that can be used for irrigation, cleaning and other non-potable uses. Rainwater harvesting can also reduce the potential for stormwater runoff and erosion.
Appropriate Location
Zoning ordinances should encourage land developments to be located in areas that are planned for growth, where utilities are available, and which are served by public transit.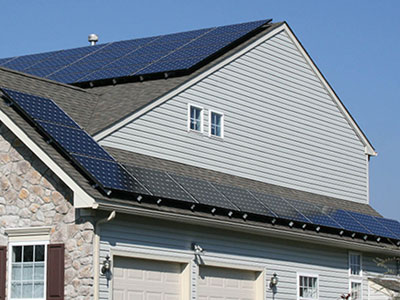 Solar Orientation
Subdivision and land development ordinances should encourage structures to face south to take advantage of photo-voltaic electricity generation and passive heating.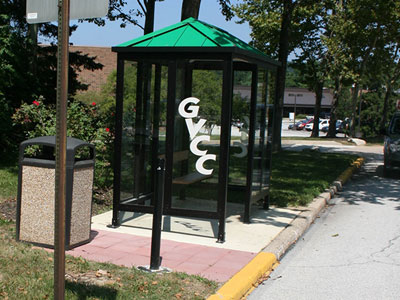 Public Transit
If the land development can support it, the municipality should require provisions for a public transit facility.
Innovative Stormwater Management
Rain gardens and vegetated roofs can be encouraged.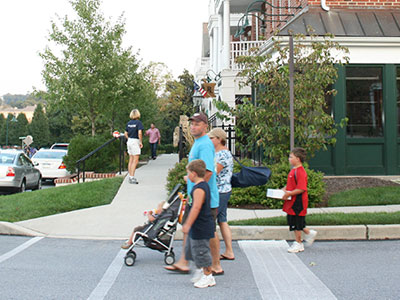 Walkability
Developments should be located in areas where residents can walk to shopping, employment and other destinations, rather than use automobiles.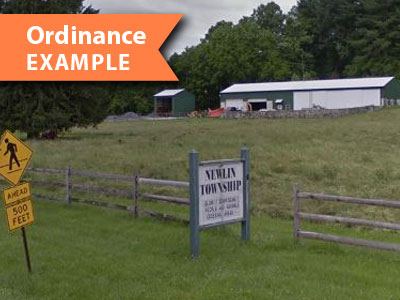 Examples
Newlin Township permits the Board of Supervisors to adjust any yard, bulk or setback regulation in this Ordinance in the interest of adapting a historic structure to a modern use.
Newlin Township's Subdivision and Land Development Ordinance emphasizes environmental sensitivity in the location of structures, greenway and greenbelt designs, ownership and management plans for open spaces, environmental impact and traffic assessments, natural resource delineation and protection plans and extensive landscaping requirements.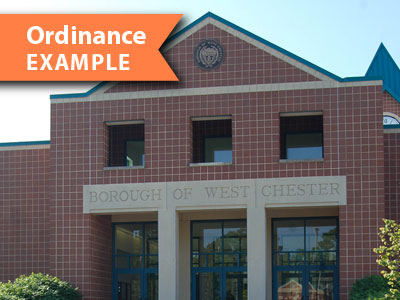 West Chester Borough encourages LEED certification with zoning incentives.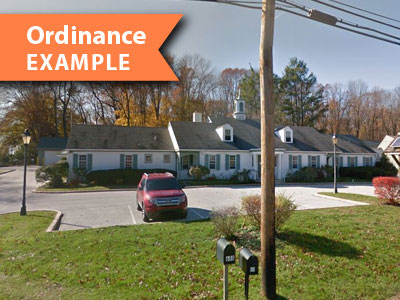 The Willistown Township Zoning Ordinance includes a Transportation District that supports its multi-modal transportation center.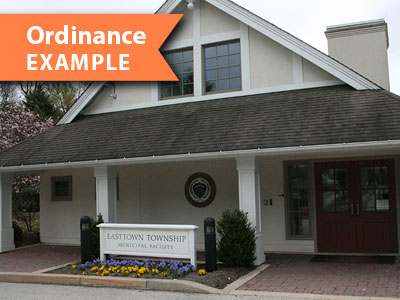 The Village of Berwyn Districts in Easttown encourages walkability and mixed-use developments.