Parking and Registration: Historic Yellow Springs, 1685 Art School Road, Chester Springs. Advanced Reservations Required — $20.00 plus a $2.85 Eventbrite fee will include the lecture, supper, and refreshments. Please see each Supper Lecture below to find the Eventbrite link to register and for payment information. Follow directional signs for parking after entering the village of Historic Yellow Springs
October 10 — Armchair Tour of Historic Sugartown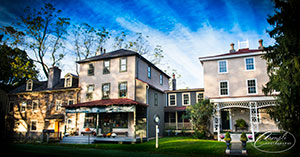 Historic Sugartown is a small crossroads village located in the heart of Willistown Township, Malvern PA. The village, now protected under a historic district, remains largely untouched by modern development. In this talk you will learn about the village of Sugartown, how it came to be, and what the site looks like today. The preservation and history of this village will be the focus of the armchair tour.
December 12 — Beware the Belsnickel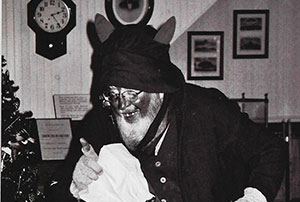 Rich Pawling will bring his talents as an educator, living history reenactor and presenter to the final Town Tour Supper Lecture. In the mindset of late 19th century Pennsylvanians of Palatinate German ancestry - without experiencing the Belsnickel, you could not fully appreciate the "grace" of Christmas. Children of the time often dreaded his arrival. You knew the Belsnickel had arrived when you heard the rattling of switches on the window, a loud thumping of his booted feet and the sound of bells ringing in the night. Discover how he evolved from the Germanic customs of the homeland into today's Santa Claus.