June 13
West Chester c. 1788: From Turks Head Tavern to County Seat
Annual Kick-off Celebration: Church of the Holy Trinity
Sponsors: West Chester HARB & Historical Commission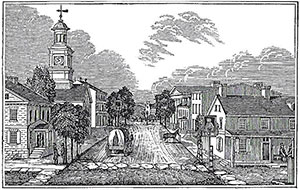 During the late 1720s, in the Land of Goshen, a Quaker farming hamlet began with the development of the Goshen and Great Valley or Wilmington Roads. In 1762, Phineas Eachus received a license to open a "Public-House." By 1768, the crossroads tavern would be known as the Turk's Head. Just west of the Turk's Head, in 1784, a lot was purchased that would become the new county seat for Chester County. At this site, on March 3, 1788, the State Assembly created a "County Town" to be known as West Chester.
Parking & Registration: Church of the Holy Trinity, 212 S. High Street. Arrive at 5:30pm for pre-registration, all tours leave at 6:30pm after the celebration. High Street has both metered and free parking. A metered lot is available next to the United Methodist Church, 129 South High Street and the Bicentennial Parking garage, 20 South High Street.
Refreshments provided by Trinity Catering, Parish Hall Kitchen and courtesy of James A. Cochrane Inc., Realtor.
June 20
Ludwig's Corner c. early 1770's: A Stop on the Conestoga Road
Sponsor: West Vincent Township Historical Resources Committee
This Town Tour will be held as scheduled. If the rain is a problem, the whole tour will be held inside St. Andrews Church with driving maps to help you further explore on your own.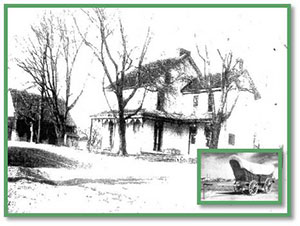 Around 1811 when Jacob Ludwick, Sr. (1755-1833) bought shares in the 17.5 mile "Little Conestoga Turnpike" road venture, he also purchased 14 acres along the road from his son-in-law, Henry Miller. There he built a tavern and coach stand which he named the Captain Lawrence. Locals called it "The Bucket of Blood." His daughter, Hannah Ludwick (1797-1873), and son, Jacob Ludwick, Jr. (1799-1868), continued there. At the intersection of today's Conestoga Road and St. Andrew's Lane, a small commercial hamlet grew, with church and school, witnessing and adding to the changing winds of history in West Vincent Township. A nearly "walkless" tour will be held at St. Andrews Church with driving maps to help you further explore on your own.
Parking & Registration: St Andrew's Episcopal Church, 7 St. Andrews Lane, Glenmoore, on Route 401 west of Route 100. Overflow parking is available at the rear of the Ludwig's Village Shoppes, 2904 Conestoga Rd, Glenmoore.
June 27
Warwick Village c. 1717: An Early Iron Village
Sponsor: Warwick Historical Commission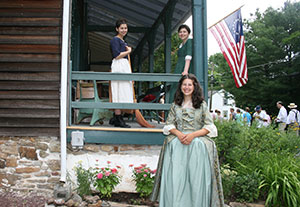 Warwick Village has existed since settlers arrived in 1717 to work the local iron ore mines. The ore was hauled to nearby furnaces, where the iron was extracted and made into cannons and cannon balls for the Continental Army. 18th and 19th century homes line both sides of the narrow road that ambles through the village, which has seen few changes. The houses once served as more than residences. They were general stores, a post office, a hotel, a parsonage, a tavern, and a school house. In the center of the village is Saint Mary's Church, founded by Levi Bull in 1805. Many of the presenters will be in costume and the street will be closed to cars so visitors will be able to stroll freely.
Parking & Registration: 10 Morningside Dr., Elverson - near the intersection of Route 23 and Morningside Dr. Follow signs and parking attendants will be assisting.