August 1
Doe Run Village c. 1744: Tomahawks, Mills, Foxhounds, Cowboys and Kings
Sponsor: West Marlborough Township
Bus Tour: Reservations Required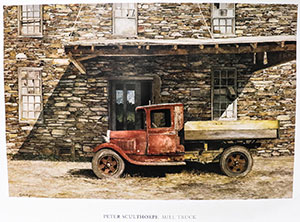 Ride along with us to a Chester County village set in former King Ranch country that has been home to tomahawks, mills, foxhounds, cowboys and Kings! This quaint yet sprawling hamlet grew up around a stone grist mill that was established in the 1700s. On this fascinating bus tour, we will help you trace village events over the last three centuries. Come discover our unique Doe Run history which is still beautifully etched into the picturesque landscapes of today. A captivating experience awaits!
Parking & Registration: Parking will take place at South Brandywine Middle School, located at 600 Doe Run Road, just south of Coatesville on Route 82. Please plan to arrive one half hour before your scheduled tour for check-in. Displays, music, and refreshments will be available to guests before boarding buses.
Reservations: Scheduled 50-minute guided bus tours of Doe Run will take place at 4:00, 5:00, 6:00, and 7:00 pm. Registration is required!
For questions and additional information, please contact Kathleen at 610-383-5068 or Betty at 484-574-0774.
Triple Fresh Market will be offering a special barbeque supper from 3-7pm on the green at Ercildoun (just north of Doe Run Village) for interested guests on the day of the tour.
August 8
Malvern Borough c. 1889: From Crossroads to Powerhouse
Sponsor: Malvern Historical Commission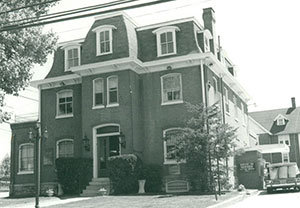 Join the Malvern Historical Commission on a short walk that spans over one hundred years of history. From the Borough Hall that served as a school house, to the park that replaced a factory, to the 19th century bank that houses the same bank today, let us show you how Malvern has kept up with the times while retaining its unique character including its farming roots. Discover how the desirable mix of Victorian charm and modern amenities has made Malvern a "Classic Town."
Parking & Registration: Burke Park gazebo, 21 South Warren Ave., Malvern. Free parking is available at the following municipal lots: the lot next to Burke Park, the Borough Hall lot (1 E. First Avenue), and the lot next to the Wolfe's Baldwin Brass Center (101 E. King Street). The National Bank of Malvern (2 W. King Street) has also graciously permitted tour visitors to use its parking lot.
August 15
Village of Sadsburyville c. 1729: CCHPN Supper Lecture & Armchair Tour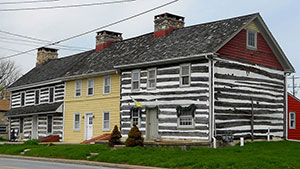 Sponsor: Chester County Historic Preservation Network
Presenter: Dick Dague, President Sadsbury Township Historical Society
6:30 - 7:30: Limit 50 participants – Advanced Registration Required
August 22
Johnsontown in Downingtown c. 1875: A Town Within A Town
Sponsors: Downingtown Historical Commission, Downingtown Area Historical Society, & St. Anthony's Lodge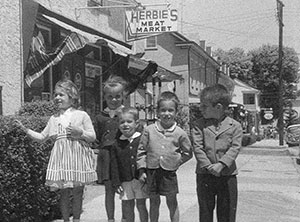 Created as a speculative development in the late 1800s, Johnsontown initially did not thrive. The first residents were Irish, many of whom worked on the railroad. Geographically, the area was hemmed in with only one major road going in and out. After World War I, Italian immigrants dominated the area, creating an entire community unto itself, complete with churches, stores, butchers, and entertainment through the creation of St. Anthony's Lodge, which is celebrating its 100th anniversary in 2019.
Parking & Registration: St. Anthony's Lodge, 259 Church Street, Downingtown. Parking is available on the WEST side of St. Anthony's Lodge. Additional free parking will be available at the Downingtown Borough lot (Johnsontown Park) at 122 Viaduct Avenue. A shuttle bus will be available to transport guests to St. Anthony's Lodge.
Thank you to the many wonderful sponsors of the Town Tour of Johnsontown who are recognized in the upcoming tour brochure!
August 29
Brandywine Meadow Farm: Home of Charles E. Mathers Brandywine Hounds, c. 1901
Sponsors: Radley Run Country Club; Birmingham, Pocopson, and East Bradford Township Historical Commissions; & the Friends of Brandywine Battlefield. Including a visit from the Radnor Hunt and a 25th Town Tour Anniversary Optional Dinner!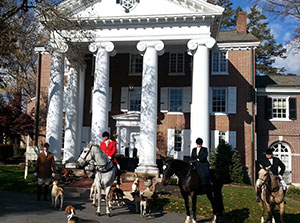 Join us to tour this fascinating historic complex. Located in the heart of the Brandywine Battlefield at the intersection of three townships, the early Painter's property influenced and contributed to each for three centuries but never became a village. You will learn how the 1770 James Painter Mansion house, the Penn charter 1749 Samuel Painter, Jr. house, and the Lye house ruins (where a large fulling operation existed) formed the basis for a 20th century estate. Next you can explore the tradition of fox hunting as you tour the Huntsman and Kennelman houses and the renovated stone barn designed by Charles Mather for up to 50 horses.
Please Note: First tour begins at 4:30 pm, last tour begins at 7:15 pm. The Anniversary Celebration buffer dinner for $20.00/person will be served 5:30 – 8:00 pm. If you plan on staying for dinner please RSVP to Kim Jones at 610-793-1660 in advance, then pay when you arrive and get your ticket.
Parking & Registration: Radley Run Country Club, 1100 Country Club Road, West Chester. The only entrance open will be off Birmingham Road. Please follow signs for parking.