Ethnicity and Hispanic Origin
For most of the last three centuries, Chester County residents were largely of European and African heritage. However, over the last three decades, the Hispanic or Latino population has risen to over 7%, roughly matching the Black/African American (alone) population. Meanwhile the Asian (alone) population has increased to over 5%. The White (alone) population number continues to increase but the share has dropped modestly.

Aging Population
Over the last four decades, the age distribution in Chester County has changed. The share of children and retirees has remained relatively stable, while the working age adult population has shifted with an increase among those nearing retirement. Although there is a common perception that young adult "Millennials" are leaving the county, census data indicates that Chester County has a similar age distribution (24.3%) to the state (25.9%) and nation as a whole. However, Philadelphia has a higher share of young adults, with a regional young adult share of 33.5%.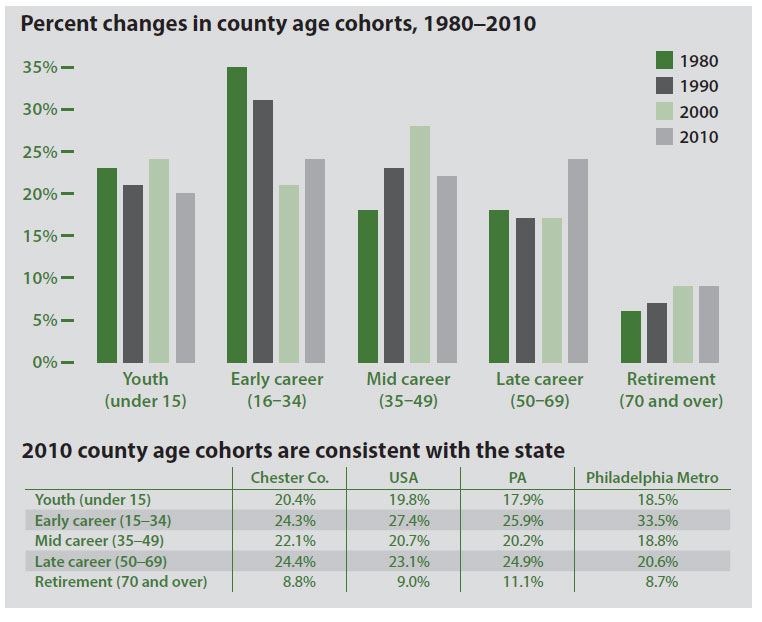 Millennials in Chester County
During the summer of 2016, Jake Michael of the Planning Commission staff gave a series of presentations about the how local planning is adapting to meet the needs of Millennial Generation. How Chester County's communities will adapt to the changing housing and employment needs of Millennials has become a significant planning issue, since this generation now comprises roughly a quarter of the population. View Presentation