Chester Valley Trail Extension Study
Project Description
The Chester County Planning Commission (CCPC) is nearing completion of the Chester Valley Trail Extension Study (CVTE) which will investigate alternatives and determine a recommended alignment for extension of the Chester Valley Trail (CVT) from its current terminus in Exton into the Borough of Downingtown. This 3.5 mile (+/-) trail extension of the existing 13.5 mile trail will provide connections to the existing Struble and East Branch Brandywine Trails in the Downingtown area.
The project study area includes 6 Chester County municipalities: Caln Township; Downingtown Borough; East Bradford Township; East Caln Township; West Bradford Township; and, West Whiteland Township. Each of these municipalities is represented on a project Steering Committee along with representatives from other County departments and local stakeholders.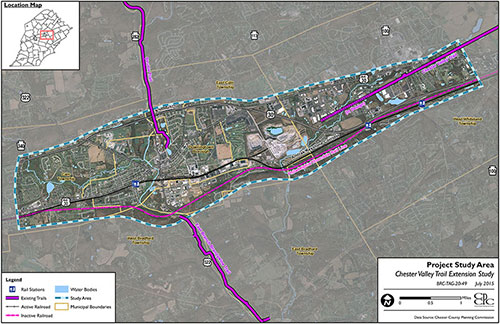 View Study Area Map
The recommended alignment connects the existing CVT to the inactive Philadelphia and Thorndale (P+T) line, which runs parallel to but separate from the SEPTA/Amtrak main line for 7.4 miles. In addition, recommendations are made for providing on and off-road connections between the P+T line, Struble Trail, and East Branch Brandywine Trail through Downingtown.
The CVTE study is partially funded by the Pennsylvania Department of Conservation and Natural Resources (PA DCNR) Community Conservation Partnerships Program (C2P2). For more information, please contact Brian Styche, CCPC's Transportation Services Director at 610-344-6285 or bstyche@chesco.org.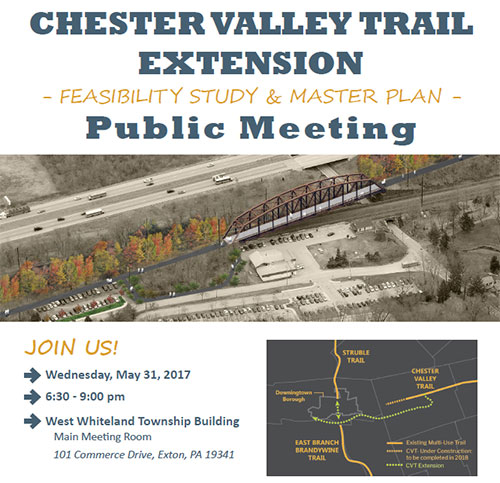 Public Meetings
Public Meeting #1: 'Introduction' was held October 8th, 2015 at the West Whiteland Township Building Main Meeting Room.
Public Meeting #2: 'Alternatives Analysis Review / DRAFT Recommended Alignment' was held March 30th at the West Whiteland Township Main Meeting Room. To view the PowerPoint presentation delivered, please click here.
Public Meeting #3: 'DRAFT Master Plan - Recommended Alignment' will be held on May 31st, 2017 at the West Whiteland Township Main Meeting Room from 6:30-9:00 pm.
The Potential Alignments exhibit illustrates all of the alternatives being evaluated towards extending the CVT and providing connections to the existing Struble and East Branch Brandywine Trails.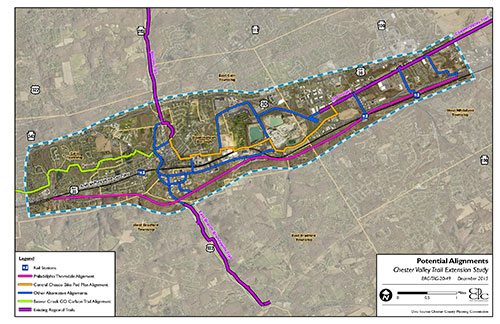 View Alignments Studied
Draft Plan
Check back soon to view and download a pdf of the draft Chester Valley Trail Extension Feasibility Study and Master Plan.