Announcements
Chester County Commissioners write to PUC and PEMA requesting assistance regarding ME2
On December 11, 2018, the Chester County Board of Commissioners wrote to the Pennsylvania Public Utilities Commission and the Pennsylvania Emergency Management Agency requesting assistance from both agencies to review and provide observations of Sunoco's Hazard and Risk analysis, as well as to conduct a review of municipal and school emergency plans for those municipalities affected by the Mariner East 2 pipeline.
Sunoco Mariner East 2 releases November/December 2018 newsletter
On December 10, 2018 Sunoco released its latest community newsletter. This newsletter and previous editions can be viewed on the Mariner East project page.
Adelphia Gateway Project — Draft FERC EA Announcement
On October 19, 2018, the Federal Energy Regulatory Commission (FERC) issued Notice of Schedule for the Draft Environmental Assessment (EA) for the Adelphia Gateway Project. The Issuance of the EA is scheduled for January 4, 2019. The FERC Docket Number is CP18-46. View the FERC Announcement. Comments may be submitted via mail or through the FERC e-file systems, and are due to FERC within 30 days of the posting of the Draft EA. When the EA is made available, a link will be posted.
Eastern Shore Natural Gas to conduct HDD on 24-hour basis
On October 10, 2018, FERC granted a request by Eastern Shore Natural Gas to conduct 24-hour Horizontal Directional Drilling to pass under Southern and Amtrak railroad lines for an 850-foot segment. View the letter from FERC.
Website Overview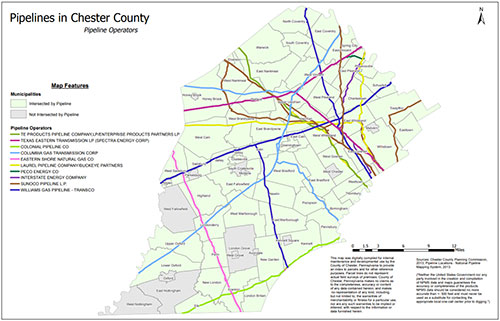 Nearly 600 linear miles of pipeline corridors cross Chester County's landscape. Many of these pipelines have been in place for decades but, more recently, the construction of new lines and upgrades to existing ones have increased in the county. Much of the pipeline activity is a result of the expansion of gas extraction in the Marcellus and Utica Shale regions. The increased extraction has, in turn, created a greater demand for pipeline capacity to transport the resulting products.
The Pipeline Information Center (PIC) was created to provide current information on pipelines and pipeline activity in Chester County. The Chester County Planning Commission maintains the Pipeline Information Center website and serves as the County's Point of Contact for interaction and information exchange with residents, landowners, operators, non-profits, and regulatory agencies. The website serves as a central location for information and updates on proposed and active pipeline projects. The Pipeline Information Center also supports pipeline safety and public awareness through a partnership with pipeline providers, regulators, and municipal governments.
The PIC is designed to address stakeholders' primary concerns and includes sections such as an interactive map that allows users to search for their location relative to nearby pipelines as well as other mapping information; pipelines in the news which includes articles about local pipeline projects; and active pipeline projects which provides information on current pipeline projects proposed in Chester County.
A full site index is available and provides a quick overview of the site's extensive contents.