Town Tours and Village Walks — September Tours
September 7 — Bus Tour: Advance with the Hessians!
(Rescheduled from July 13th see below)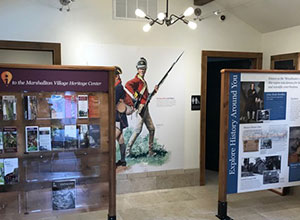 Sponsored by Pennsbury Historical Commission, Chadds Ford Historical Society, Brandywine Battlefield Park, Brandywine Battlefield Task Force, & Old Kennett Meeting.
On the morning of September 11, 1777, the Royal Army advanced in a second column east along the Great Nottingham Road straight at Washington's defenses. Led by General Wilhelm von Knyphausen, they were tasked with engaging the Continental forces along the Brandywine until they heard General Howe's guns from the north indicating that the flanking maneuver had been successful. As they approached today's Longwood Gardens, they were attacked by soldiers commanded by American General William Maxwell. Despite the American delaying tactics, the enemy advanced to the river. Follow the route by bus and hear the description of the battle as well as the role historic resources along the route played. Brandywine Battlefield interpreters will be on each bus. Open House at Brandywine Battlefield Park beginning at 4:30 pm.
Due to the heat warning on July 13 this is a rescheduled tour. All reservations for July 13 will be honored on September 7. Please refer to http://www.battlefieldtour2017.eventbrite.com for further information.
Thanks to the following companies for helping to sponsor the tour: The Gables at Chadds Ford, Hank's Place, Brandywine River Antiques, Mushroom Café, Chadds Ford Winery, Antica Restaurant, The Pennsbury Inn, Roberts Garage, and Mailing, Inc.