Town Tours and Village Walks — June Tours
June 15 — The Land of Goshen 1777: From Turk's Head to County Seat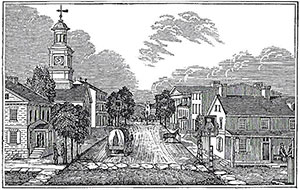 Sponsored by West Chester HARB.
The 23rd summer of Chester County's Town Tours & Village Walks kicked off at the Chester County Historical Society with ten tours highlighting the borough's role in the American Revolution. Almost 200 guests enjoyed a special visit from the Marquis de Lafayette who extended his 1825 greeting to residents of Chester County. The tour was sponsored by the West Chester Borough HARB with refreshments offered at the new Uptown! Knauer Performing Arts Center.
June 22 — Two Days Before Brandywine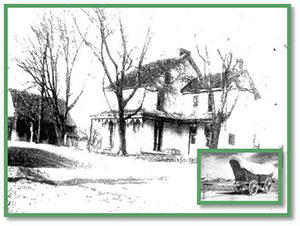 Sponsored by Historic Kennett Square in Kennett Square Borough.
The Two Days Before Brandywine Town Tour in Kennett Square Borough on June 22nd featured Generals Howe and Knyphausen, camp followers, frightened residents, Captain Ferguson (of the Ferguson rife), and Peter Bell who owned the local tavern and submitted a claim for 13 cattle, 10 hogs, 4 tons of hay, and 45 gallons of rum among his losses to the Crown Forces descended on the then tiny village of Kennett on September 10th and 11th. The 200 visitors were treated to time travel back to those ill-fated days to experience all the excitement firsthand. Refreshments and book signings by author Kevin P. Sheridan were featured at the Sunrise Café.
June 29 — The British Flank at Trimble's Ford: An Archaeological Journey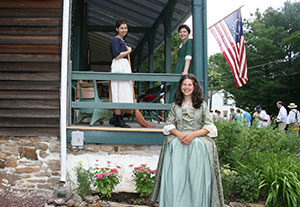 Sponsored by Friends of Martins Tavern, West Bradford Historical Commission, Pocopson Historical Committee.
The morning of the Battle of Brandywine, between 5 and 6 am, the Royal Army formed two columns in Kennett Square. Led by three local loyalists, General Sir William Howe, General Cornwallis, and a column of 8,500 soldiers marched north to outflank General Washington's forces. Following a maze of local roads, they arrived on the Road to the Great Valley that forded the Brandywine Creek at Trimble's Ford. Explore the lost road, ford and Village of Trimbleville with guides and archaeologist Wade Catts whose research team discovered the lost road and ford.
Parking & Registration: Tours will begin at 5:30 pm. Parking 300 Broad Run Rd., West Chester. Please be advised of the uneven terrain and difficult field walking.