Honoring Chester County's Legacy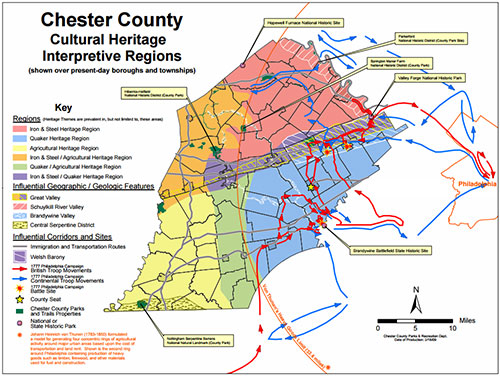 As one of three original counties founded by William Penn, Chester County enjoys a rich and vitally important role in the development of this country. The interpretation and preservation of historic structures, landscapes and other resources at the County level is a collaborative partnership of the County Archives & Records Services Department, the Chester County Planning Commission and Chester County Facilities & Parks.
We are here to answer questions about the history of Chester County and to provide technical assistance to the County's 73 municipalities, for profit and non-profit organizations representing historic resources, and history minded residents who are ultimately responsible for the wealth of historic resources that we all enjoy.
Chester County Archives and Records Services
Focus: Preserve and make available the historic records of Chester County.
The Chester County Archives was established in 1982 to preserve and make available the historic records of Chester County. The archives currently holds over 2,655 volumes and 1,779 cubic feet of original public records of enduring historic and cultural value. Serving over 3,200 researchers a year, the archives is a primary destination for genealogists, property researchers, local historians and academics researching all facets of Chester County history.
In 1985 the archives expanded to include micrographics and records management sections. To help facilitate the disposal, access, preservation and management of current public records, records management ensures that county departments follow the guidelines established by the State of Pennsylvania and the Pennsylvania Courts.
The Chester County Archives is administered by the Chester County Historical Society in cooperation with the County of Chester.
The Chester County Archives is currently developing a research guide to historic house or property research. Upon its completion in spring 2010, the guide will be available on the Archives website. The Archives, along with Chester County Historical Society and the Department of Parks and Recreation, will also hold workshops in 2010 on historic property research that will be held at the Historical Society. The guide and workshops are funded by the grant from the Pennsylvania Historical and Museum Commission.
The purpose of the Chester County Archives and Record Services is to:
Preserve and make available the historic records of Chester County:

Records are kept in a climate-controlled storage room
Open to the public Monday-Friday, 9:00 a.m. - 4:00 p.m.

Historic records available for property research include deeds, taxes, and estate records Provide Services and Technical Assistance:

On-site reference assistance to researchers using County records
Online access to record indexes at www.chesco.org/archives
Education and outreach programs available through Chester County Historical Society
Contact: Chester County Archives & Records Services
Laurie Rofini, Director
Government Services Center
601 Westtown Road, Suite
West Chester, PA 19380
610-344-6760
Heritage Education Services
Focus: Heritage interpretation at Chester County's parks to further knowledge about Chester County's role in American history.
Heritage Interpretation and Education for County - managed Parks & Trails
Black Rock Sanctuary's Phoenixville Canal relationship and coal desilting program
Hibernia County Park's mansion, iron plantation and gentleman's farm
Nottingham County Park's serpentine barrens & mining traditions
Springton Manor Farm's legacy of agricultural & land stewardship.
Warwick County Park's iron heritage focusing on charcoal production
Interpretation of historic resources adjacent to or part Chester Valley Trail, the Schuylkill River Trail and the Struble Trail such as the Parkerford Historic District, Fricks Lock Village and the Phoenixville Canal.
Contact: Chester County Facilities and Parks
Jessica Cirilo, Program Coordinator
313 W. Market Street, Suite 5402
West Chester, PA 19380
Phone: 610-344-5929
Heritage Preservation Services
Focus: Provide information and registration on historic resources in the county to help preserve Chester County's cultural landscape and history and meet the goals of Landscapes2 for Historic Preservation.
The Chester County Historic Preservation Officer was created by the Chester County Board of Commissioners and approved by the federal government in 1981 to provide necessary coordination between the county, the Pennsylvania Historical and Museum Commission, state and federal agencies and the general public when identifying and addressing the county's individual historic resources and their history based upon the National Preservation Act of 1966 as amended.
Chester County Historic Structures Certification Program
Section 106 consulting party for state and federally funded or assisted projects
Section 106 review for County projects
Chester County Historic Resource Atlas Project - GIS Mapping of Historic Resources updating the Chester County Historic Sites Survey 1979-1982
Historic Resource identification, registration and documentation
Technical Expertise and Educational Assistance to the Public
Duties of municipal historical commissions, committees and societies
Historic resource information for residents, businesses and property owners
Technical assistance to historic resource task forces & organizations on historic preservation issues
Technical assistance for historic structures preservation and maintenance standards
Chester County Historic Preservation Network Board Member (CCHPN)
Heritage Tourism & Marketing
Chester County's Cultural Heritage Interpretive Region collaborations & linkages
Iron & Steel Heritage Partnership
Town Tours & Village Walks: Celebrating and Sharing Chester County's Built Heritage
American Battlefield Protection Program: Documenting the Campaign of 1777 in Chester County
Contact: Chester County Planning Commission
Karen Marshall, Heritage Preservation Coordinator
601 Westtown Road, Suite 270
West Chester, PA 19380
610-344-6285
Local Historic Resource Planning Assistance
Focus: Provide technical assistance in the development of local historic resources planning policy and regulations.
Support historic resources planning through Chester County Policy:
Landscapes/Landscapes2
Linking Landscapes: a Protected Open Space Plan for Chester County.
CCPC is the planning arm of the larger County directive to implement Landscapes/Landscapes2 historic resource policies through County programs
Provide planning consulting assistance for municipal historic resource planning:
Professional planning staff provides planning consulting, technical assistance, and facilitation services on municipal planning programs such as a historic preservation plan element of a municipal comprehensive plan and historic preservation ordinances
Provide municipal historic resources planning grant funding:
Vision Partnership Program includes grants for municipal historic resources planning projects such as the Historic Preservation Plan element of a Comprehensive Plan; Historic Preservation Ordinances; and Special Studies including Historic Village Protection Plans and Historic Resources Surveys
CCPC Professional planning staff monitors and can assist grant projects related to historic resource planning
Prepare educational historic resources planning publications for municipal planning:
Preserving Our Places, A Historic Preservation Manual for Chester County Communities
Battlefield Protection Strategies, A Guide for Brandywine Battlefield Communities
The Community Planning Handbook - a "toolbox' of planning strategies for municipalities
Coordinate with other agencies on local historic resource planning:
Brandywine Battlefield Taskforce
Chester County Department of Community Development
PA Historical and Museum Commission
Contact: Chester County Planning Commission
Jeannine Speirs, Senior Community Planner
Government Services Center
601 Westtown Road, Suite
West Chester, PA 19380
610-344-6285