July 2018 Town Tours and Village Walks
July 12 — The Birth, Growth and Future of the Mushroom Industry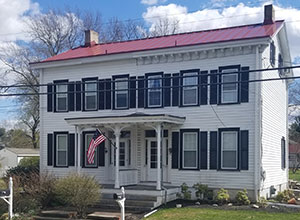 Sponsors: Kennett Township Historical Commission and Historic Kennett Square
Come to the "Mushroom Capital of the World" to learn about the Quaker florist credited with the birth of mushroom farming in our area. You will be a special guest at a 4th generation farm owned and operated by the Phillips family. There you will learn about the growing practices of the past, present and future, see actual mushrooms growing, talk to the growers and tour their restored 1828 farm house. At the American Legion Hall, you will hear about the 1930 Mushroom Day, see models of mushroom transportation trucks and displays by spawn and compost companies.
Parking and Registration: Parking garage, 120 E Linden Street. Follow signs to American Legion Hall, Broad and State Streets for registration and the start of the program. A short bus ride to mushroom farm; last bus leaves at 7.
July 19 — Industry Rebels: Women at Yellow Springs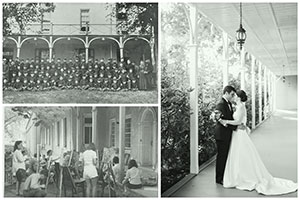 Sponsor: Historic Yellow Springs
In the 18th, 19th and even the 20th century, when women's sphere of domesticity was hearth to cradle, there were women who were stepping up in innovative ways to defy stereotypes of proper female behavior and exhibiting their powerful and multifaceted competence. At Yellow Springs, Abigail Hartman Rice, wife and mother of 21 children, left her home each day to nurse the sick soldiers at the Revolutionary War Hospital. Margaret Holman is the widow who functioned successfully in the male world of business, managing the spa here. Eleanor Moore, a Civil War widow, was appointed principal of the Pennsylvania Soldiers' Orphan School at Chester Springs, the only woman in the state to be appointed. By the 1950s, Jean Bruce Yeaworth, wife of film producer and mother of 5, continued her music career as music director for Good News Productions. Each of these rebel women has steered society to institute changes in recognizing the capabilities of women in innovative ways.
Most sites have limited handicap accessibility. Contact Karen Marshall, 610-344-6923 to make special arrangements.
Parking & Registration: Historic Yellow Springs, 1685 Art School Road, Chester Springs. Follow directional signs for parking after entering the village.
July 26 — The Milling that Made Chester County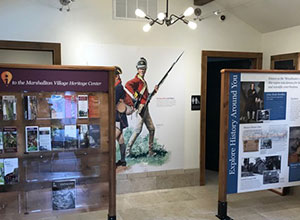 Sponsor: The Mill at Anselma Preservation & Education Trust
Nestled along the Pickering Creek in Chester Springs, Pennsylvania, the Mill at Anselma is an extraordinary artifact of 250 years of Chester County's industrial heritage. Constructed in c. 1747 by Samuel Lightfoot, the Mill retains its original Colonial-Era power train. The Mill and Vvillage of Anselma demonstrate how 18th century technology was adapted to serve the prosperity of the Industrial Revolution and the challenges of the Great Depression. Today, the Mill at Anselma connects visitors with Chester County's rich industrial and agricultural past through tours, flour milling demonstrations and its stone ground flour. A special milling demonstration will be offered the evening of the tour.
Parking & Registration: The Mill at Anselma, 1730 Conestoga Road, Chester Springs